"Contraband Pixels & Texts (Pixelettere)". CNIT and the DOGANA project promote a literary-graphic competition to raise awareness on Social Engineering and phishing
"Contraband Pixels & Texts, or… make stories, not phishing" is a literary-graphic competition on social engineering and phishing, organized by PRA Lab and CNIT (Consorzio nazionale interuniversitario per le telecomunicazioni), partner of the DOGANA project, funded under the HORIZON 2020 programme.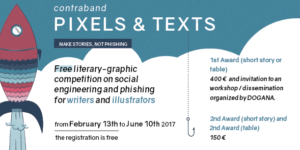 Participants: writers and cartoonists / illustrators.
Registration: registration is free and open to people residing in EU countries (Austria, Belgium, Bulgaria, Cyprus, Croatia, Denmark, Estonia, Finland, France, Germany, Greece, Ireland, Italy, Latvia, Lithuania, Luxembourg , Malta, Netherlands, Poland, Portugal, United Kingdom, Czech Republic, Romania, Slovakia, Slovenia, Spain, Sweden, Hungary), Israel and Switzerland.
Rules: writers must submit a short story (max. 5000 characters including spaces, excluding title) addressing the theme provided by the organization;illustrators must submit a table of up to 1024×768 pixels resolution, representing or summarizing the project theme in a drawing or in a comic strip. The same author may submit multiple tables and short stories. Artworks can be submitted in Italian, in English and / or in both languages (Italian and English). Artworks presented in two languages will receive an additional bonus.
Artworks must be shared on the Facebook page dedicated to the competition (https://www.facebook.com/pixelettere), starting from February, 13th, 2017. Last date to submit artworks is June, 10th, 2017. Dates for intermediate selections will be communicated time to time