Livorno: the Italian case study for the Port of the Future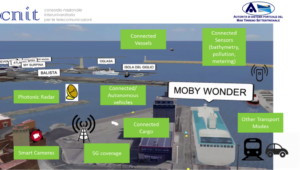 Maritime transport represents 90% of global trade and ports are therefore a very important and strategic resource.
Container traffic has experienced a steady growth with cumulative annual rates of 7-8%. According to the OECD (Organization for Economic Co-operation and Development), global container handling in ports could rise up to four times the current levels by 2030 and five to six times by 2050.
Port of Livorno is also taking part in this revolution and needs to catch up:

Today, 780,000 containers per year, 2.5 million passengers (ferry and cruises)
Over 1 billion investment in Livorno for the new "Darsena Europa" (Europa docks) to accommodate large vessels (up to 19,000 TEU, 400 m long and 59 m wide) matching requirements in terms of depth, length of docks, appropriate loading / unloading equipment, storage areas.
The Port Authority of Northern Tyrrhenian Sea in partnership with CNIT is leading a deep digital revolution that will transform the port industrial activities, making them more efficient and safer with the final goal of gaining competitiveness on the national and European panoramas. Goods handling is the core activity of commercial ports, at the basis of the world ranking of their productivity.
Through an innovative and standard ICT architecture, the Authority hunts for a complete digitalization of port operations, supporting R&D and technological transfer on the various layers of the data chain: gathering data from producers (i.e. machines and humans), interconnect them through a fast network; aggregate and store data, provide services to port communities. To this extent the Authority participates in the "5G for Italy" program, a collaboration platform founded by Ericsson and TIM with the involvement of the excellence of Italian industries, universities and institutions, to experience innovative use cases in the port scenario.
The Authority extends its innovation action to an integrated cyber-physical workspace encompassing the water front and the landside (docks and terminals, road and rail networks).
In this TV service (broadcasted by Rai Uno within SuperQuark on July 5th and available to be replayed from the RAIPLAY platform and YouTube) a general description of the implementation plan undertaken by CNIT and the Port Authority is presented.