Photonics in Switching and Computing 2023 – Extended Submission deadline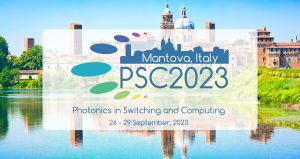 The Photonics in Switching and Computing (PSC) conference welcomes you to Mantova, Italy in September 2023.
PSC is a unique conference which addresses all aspects of optical networks including: i) optical systems and subsystems, ii) optical components and devices, and iii) network control and management for telecom, datacom, high performance computing (HPC), and big data.
The main focus is on optical switching technologies for networking and computing systems with emphasis on vertical integration from technologies to systems and architectures. Some of latest research in PSC areas will be presented in a stimulating environment with in-depth and open discussions of the latest trends in this area.
Submission Paper deadline has been extended to July 9, 2023. https://psc2023.org/submission/
Call for Papers https://psc2023.org/call-for-papers/
For more information visit the website: https://psc2023.org/
The conference is organized by CNIT.